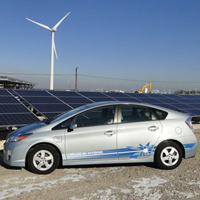 Hybrid-electric vehicles (HEVs) are offered by numerous auto manufacturers with more available each year. HEVs are efficient vehicles that use a small motor and an electric engine to generate the power to drive the vehicle.
Clean Cities embraces hybrid vehicle technologies because they offer reduced emissions, and due to their increased fuel economy, help reduce our nation's dependence on foreign oil.
What is a Hybrid Electric Vehicle?
Hybrid electric vehicles (HEVs) typically combine the internal combustion engine of a conventional vehicle with the battery and electric motor of an electric vehicle. The combination offers low emissions, with the power, range, and convenient fueling of conventional (gasoline and diesel) vehicles, and they never need to be plugged in. The inherent flexibility of HEVs makes them well suited for fleet and personal transportation.
How do Hybrids Work?
Hybrid electric vehicles (HEVs) are powered by two energy sources—an energy conversion unit (such as a combustion engine or fuel cell) and an energy storage device (such as batteries or ultracapacitors). The energy conversion unit may be powered by gasoline, methanol, compressed natural gas, hydrogen, or other alternative fuels. Some hybrid electric vehicles have the potential to double the fuel-efficiency of conventional combustion engines.
Engine Design
HEVs can have a parallel design, a series design, or a combination of the two.
Parallel Design: This is the most common HEV design. Both the internal combustion engine (ICE) and the electric motor are connected to the wheels through mechanical coupling, and both engines drive the wheels directly. Typically, the electric motor runs at lower speeds typical of city driving and the ICE is activated at higher speeds.
Series Design: In a series design, only the electric motor drives the wheels and an internal combustion engine (ICE) is used to generate electricity for the motor. The series design can also be used in conjunction with parallel design in HEVs, using the series design at low speeds and the parallel design for highway driving and acceleration.
HEV Availability
There are numerous light-duty HEVs available for purchase today. They include cars, trucks, SUVs and even buses and heavy trucks. In some areas, some hybrids qualify for tax incentives and can be very comparably priced to other conventional vehicles. Search for hybrid vehicles, compare them to each other or traditional vehicles to see your return on investment at FuelEconomy.gov.
Learn more about how hybrids work through the following links:
HEV Basics – Information from the Department of Energy on HEVS
How Hybrids Work – An interactive tool to visualize how hybrids components work