Contents
---
Regional EV & Charging Overview
Oklahoma ranks 33rd for electric vehicle (EV) adoption in the United States with around 2,200 EVs deployed statewide as of August 2018. Though not an incredibly high number, it marks a 69% increase in the past two years, and the market appears to be picking up momentum.
Oklahoma currently has 48 public charging stations, also known as Electric Vehicle Supply Equipment (EVSE), with 148 charging ports across the state.
As of August 2018, the Tulsa area has 48 total charging ports, and that number is growing monthly. There are 10 Level 1 ports, 30 Level 2 ports, and 8 DC Fast ports. The Tulsa Central Library has eight Level 2 charging ports, while The University of Tulsa, Whole Foods and Reasor's, car dealerships, and a few downtown parking garages all host one or two level two ports. Tulsa International Airport has two Level 1 chargers in their long-term parking garage. The only fast charger installation is a collection of eight Tesla Superchargers (only accessible by Tesla owners) at the Hard Rock Hotel & Casino in Catoosa.
A common theme among prospective EV drivers in the Tulsa area is that many are interested in driving EVs, many just do not believe that it is currently feasible to do so in the Tulsa area. As charging infrastructure becomes more prevalent and the EV market expands, EV adoption will increase in the Tulsa region.
Regional Comparisons
The Oklahoma City area has slightly more ports than Tulsa, with 60 public charging ports, though their network includes more DC Fast chargers. Their electric utility OG+E is working to increase this number in the coming months by installing DC Fast Chargers. In addition, they have other plans to increase EV adoption in their territory.
Dallas presently has a network of 30 DC fast chargers with a vast network of Level 1 and Level 2.
Kansas City has 16 DC Fast chargers and a very large network of Level 2 chargers due to an ongoing, aggressive EVSE build-out by their local electric utility.
---
Electric Vehicle Market Trends
EV batteries are dramatically increasing in range while concurrently dropping in production costs.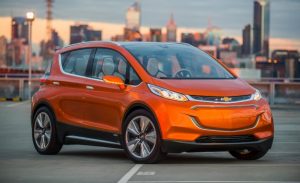 The Chevy Bolt is for sale in select markets, with plans for nationwide availability in September 2017. This car has a range of 238 miles per charge and costs around $30,000, after a $7,500 federal tax credit.
Production of the Tesla Model 3, which will have a similar range and price, will begin soon.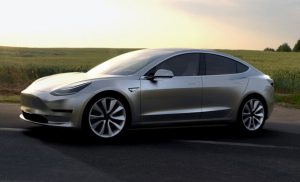 Tesla is taking pre-orders for this car, and globally more than 400,000 people have pre-ordered a Model 3 at a cost of $1,000 per reservation. Third party data suggests that once these cars are delivered to the Oklahomans who have already pre-ordered them, the state will see a 70% increase over today's number of registered EVs. Deliveries are expected to begin in late 2017.
In addition to pure EVs, plug-in hybrids are also improving in range and price. Plug-in hybrid electric vehicles (PHEVs) use batteries to power an electric motor and use another fuel such as gasoline to power an internal combustion engine or other propulsion source. Typically, the car travels 20-40+ miles solely on battery, depending on the car's capabilities, then seamlessly switches to gasoline, alleviating the "range anxiety" some EV drivers feel.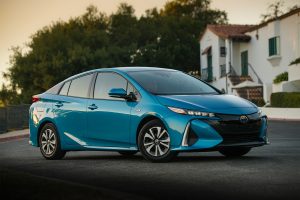 The Chevy Volt was first, but now Ford has several plug-in hybrid options, and Toyota has released the plug-in hybrid Prius Prime with a total combined range of 640 miles. Additionally, Chrysler is releasing a promising plug-in hybrid Pacifica minivan in mid-2017, marking the first plug-in option for larger families.
Chevy and Tesla are not the only automakers working to make EVs mainstream. In October 2016, Dieter Zetsche, CEO of Daimler told the press: "We're now flipping the switch. We're ready for the launch of an electric product offensive that will cover all vehicle segments, from the compact to the luxury class."
The President of GM Europe, Karl-Thomas Neumann, made a similar comment about the Chevy Bolt's European model: "I think that it is very clear that individual mobility is moving toward carbon-neutral. It is a major milestone for us for our transformation on the long-term horizon to become an all-electric company."
In addition, Ford has promised 40% of its fleet will have EV options by 2024; Volkswagen plans to have 30 EVs in its lineup by 2026; and the list goes on.
---
Impacts for Developers, Employers, Business Owners, and Policy Makers
With so many major car manufacturers publicly discussing their short and long-term plans moving towards electrification of the passenger vehicle market, developers in Tulsa and around Oklahoma should begin working toward offering residents, customers, and visitors options to charge their electric vehicles across the state. All construction projects going forward which include parking lots or structures should at a minimum include the following:
Electrical plans should account for increased use of electric vehicles in the near term, with significant increases in the next 3-10 years.
To further offset future costs for adding EV charging, consider installing electrical conduit or roughing in wiring during construction. This will significantly reduce costs associated with adding EV charging.
Ideally, all developments will install at least a few chargers to gauge interest and plan to increase charging units as needed.
---
Charging Venues
Recent studies show that 86% of EV charging takes place at home. Statistically, privately owned cars are parked 95% of the time. For now, charging batteries takes longer than putting a liquid fuel into a vehicle. A well designed a charging network should consider these three factors and plan accordingly. Chargers should ideally be placed where cars will likely be parked, not follow the gas station model of requiring drivers to travel to a separate location designed for fueling.
Home will be the primary charging location or most cars under our current model of privately owned cars. Public level 2 chargers should be placed where cars will be parked for several hours following a semi lengthy drive. DC Fast chargers should be placed where cars traveling through Tulsa might want to stop for 30 minutes or so. Highway interchanges with restaurants and other amenities are good fits for DC Fast charging.
---
Funding Sources for Chargers
In-Kind Equipment
Hotels and other full service destinations may be eligible for free or discounted Tesla chargers. Please note, these chargers are only compatible with Tesla vehicles. Visit Tesla's website for more details or to request free chargers.
Nissan often provides charging equipment at no cost when a fleet buys at least two LEAFs, Nissan's electric vehicle. These chargers are compatible with most electric vehicles. For more information on Nissan's LEAF Fleet program, contact Damian Herd, Manager, EV Fleet Sales & Business Development Nissan North America.
Oklahoma Tax Credit
The State of Oklahoma offers tax incentives which cover 75% of the cost of installing AFV infrastructure to encourage the development of alternative fueling stations:
Oklahoma State Statute 68-2357.22 — For tax years beginning before January 1, 2020, a tax credit is available for up to 75% of the cost of installing commercial alternative fueling infrastructure. Eligible alternative fuels include natural gas, propane, and electricity. The infrastructure must be new and must not have been previously installed or used to fuel alternative fuel vehicles. A tax credit is also available for up to 50% of the cost of installing a residential compressed natural gas fueling system, up to $2,500. The tax credit may be carried forward for up to five years.
Please note, the tax credits are non-transferable, meaning nontaxable entities cannot leverage them. Therefore, public-private partnerships should be considered to maximize available funding.
---
Cost Comparison: Level 2 and DC Fast Chargers
Please note there are many charging equipment manufacturers. The list below is not exhaustive, nor does it constitute an endorsement of any particular band. The lists below are included to provide a range of price points for reference and planning purposes. Pricing was obtained in fall of 2016, and is subject to change. Installation costs listed here are estimates based on a best-case scenario. Installation costs could potentially be much higher if substantial electrical supply upgrades or concrete work is needed.