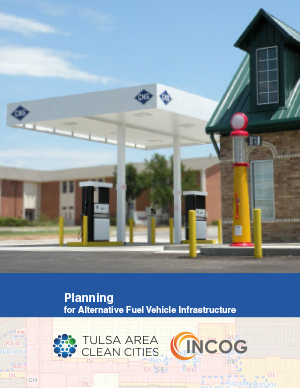 What does city planning have to do with alternative fuel vehicles?
A robust alternative fuel infrastructure network is critical to greater market adoption of AFVs; as such, the availability of alternative fuel infrastructure is the issue over which local governments can exert the greatest direct impact.
This report has been prepared to assist local governments in identifying how zoning and development regulations can be updated to better accommodate alternative fuel infrastructure and thereby help promote use of alternative fuel vehicles. Electricity and gaseous fuels (i.e., propane, compressed natural gas and liquefied natural gas) are the alternative fuels addressed in this report.
Vehicles powered by these fuels can take advantage of the existing electric grid and gas delivery networks. Where adequate power and fuel distribution networks are in place, getting these fuels to the ultimate consumer may require only relatively modest investments in vehicle fueling stations and charging equipment. Local governments can also play a positive role by providing an up-to-date and predictable regulatory framework for prospective alternative fuel infrastructure providers.