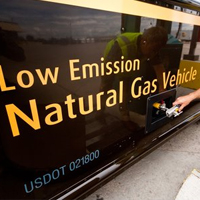 Natural gas is domestically produced and readily available to end-users through the utility infrastructure. It is also clean burning and produces significantly fewer harmful emissions than reformulated gasoline or diesel when used in natural gas vehicles. In addition, commercially available medium- and heavy-duty natural gas engines have demonstrated over 90% reductions of carbon monoxide (CO) and particulate matter and more than 50% reduction in nitrogen oxides (NOx) relative to commercial diesel engines. Natural gas can either be stored on-board a vehicle as compressed natural gas (CNG) at 3,000 or 3,600 psi, or as liquefied natural gas (LNG), typically at 20-150 psi. LNG is cooled to -260° F at ambient temperatures. Natural gas can also be blended with hydrogen.
Natural Gas Links
EPA and/or CARB Certified CNG Conversion Kits - NGVA's listing of all vehicles eligible for CNG conversion.  Updated September 27, 2012.
Benefits of CNG Refuse Trucks for Tulsa – View a presentation made by Tulsa Area Clean Cities to Tulsa's TARE board on the benefits of CNG refuse trucks.
Natural Gas Basics – Learn the basics about natural gas as a fuel from the Department of Energy's Alternative Fuel Data Center.
Natural Gas Vehicles for America – For more information on natural gas (CNG) and propane (LNG).
- Find out what vehicles can be converted to run on natural gas.
America's Natural Gas Alliance – Information on the economic impact of CNG on America.