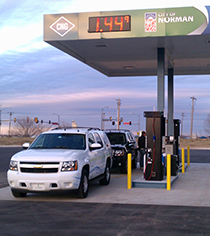 Natural gas is domestically produced and available throughout the U.S. It is also clean-burning and produces significantly fewer harmful emissions than reformulated gasoline or diesel when used in natural gas vehicles.
In addition, commercially available medium- and heavy-duty natural gas engines have demonstrated significant reductions of carbon monoxide (CO), particulate matter, and nitrogen oxides (NOx), relative to commercial diesel engines.
Natural gas can either be stored on-board a vehicle as compressed natural gas (CNG) or as liquefied natural gas (LNG). Natural gas can also be blended with hydrogen.
Incentives & Funding for Natural Gas
Significant tax credits, rebates and incentives are available for CNG vehicles and station developments. View Incentives & Funding Detail
CNG Fueling Station Development Guides
Tulsa CNG Fueling Station Development Guide
This guide, developed by Tulsa Area Clean Cities, gives a step-by-step overview of the station development process in Tulsa, complete with contact information and online resources.
National CNG Fueling Station Development Guide
This was was developed by the Drive Natural Gas Initiative to give developers a broad overview of development practices and guidelines in the United States.
Public CNG Stations
Resources
Alternative Fuels Data Center CNG Overview – Information about the fuel, benefits and considerations, a station map, available vehicles, and tax incentives.
EPA & CARB Certified CNG Conversion Kits – EPA's listing of all vehicles eligible for CNG conversion.
Natural Gas Vehicles for America – For more information on CNG and propane (LNG).
America's Natural Gas Alliance – Information on the economic impact of CNG on the American economy.
Benefits of CNG Refuse Trucks for Tulsa – View a presentation made by Tulsa Area Clean Cities to Tulsa's TARE board on the benefits of CNG refuse trucks.