Natural gas is domestically produced and available throughout the U.S. It is also clean-burning and produces significantly fewer harmful emissions than reformulated gasoline or diesel when used in natural gas vehicles.
In addition, commercially available medium- and heavy-duty natural gas engines have demonstrated over 90% reductions of carbon monoxide (CO) and particulate matter, and a more than 50% reduction in nitrogen oxides (NO) relative to commercial diesel engines.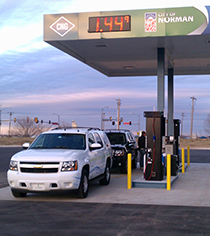 Natural gas can either be stored on-board a vehicle as compressed natural gas (CNG) or as liquefied natural gas (LNG). Natural gas can also be blended with hydrogen.
Incentives & Funding for Natural Gas
Significant tax credits, rebates and incentives are available for CNG vehicles and station developments. View detail
Natural Gas Links
EPA & CARB Certified CNG Conversion Kits – EPA's listing of all vehicles eligible for CNG conversion.
Benefits of CNG Refuse Trucks for Tulsa – View a presentation made by Tulsa Area Clean Cities to Tulsa's TARE board on the benefits of CNG refuse trucks.
Natural Gas Basics – Learn the basics about natural gas as a fuel from the Department of Energy's Alternative Fuel Data Center.
Natural Gas Vehicles for America – For more information on CNG and propane (LNG).
America's Natural Gas Alliance – Information on the economic impact of CNG on America.